"A leader is anyone who takes responsibility for finding the potential in people and process, and who has the courage to develop that potential."
Bréne Brown
Book a cost-benefit analysis before you buy.
---
If you're a team leader and would like a 45-minute conversation and analysis of the course benefits, contact me to book a time.
9 Video Lessons
Watch lesson videos and stories of other people who have brought their purpose to work.
7 Steps and 7 Lessons
Receive a weekly email lesson direct to your inbox or do the course at your own pace.
Activity Worksheets
Receive weekly activity worksheets and lesson summaries with three things to know, ask and do.
Certificate
Earn a digital certificate of completion to add to your resume and share with others.

Community of Practice
Join our private LinkedIn community and receive special invitations and online support from me.
Leader's Guide
Learn how to lead with purpose and teach and coach your people through the course.
The Purpose Project Leader's Pack
Why do you exist? What is your purpose? These are big, and often scary questions to ponder, particularly with regards to our work-life. Yet, we spend more than half our waking hours each day at work, so it makes sense to make it meaningful! As a daring and caring leader, you're not only committed to exploring your own purpose but also to helping others explore theirs too. That's why The Purpose Project Leader's Pack has been created.
In the course, in 7 steps and 7 lessons, I'll show you how to follow my proven path to purpose. As a Purpose Leader, you'll receive;
10 class-passes for your people (I call these people your

Purpose Activators

)
A bonus class-pass for yourself
A bonus 'easy-to-follow'

Leader's Guide

to help you lead and coach your people.
Together you'll explore your purpose, write a purpose statement and plan a purpose project!
Jane's Story
Jane has worked in the advertising industry for 16 years. She's steadily worked her way up through the ranks and is now a senior manager with 50 people in her team. She's exhausted and wondering if the work she does is of any real value. She's considering accepting a board position on a charity but doesn't feel inspired by it.
She's noticed many of her staff seem exhausted and disengaged too. She comes across The Purpose Project Course and buys the Leader's Pack with 10 class-passes. She sends out an email to all her people and receives a great response filling all 10 spots easily.
Soon, each person in the team has identified their purpose. Jane reignites her long-lost passion for film-making while others connect to their passion for writing, directing, designing, lighting and animating and there's a person already working with the homeless. They agree to adopt a collective purpose project "to produce a documentary film offering solutions to homelessness in Melbourne." They pitch their project to the CEO who agrees to sponsor the film and provide flexible working hours so it can be made.
| | |
| --- | --- |
| Join to receive a sample of the book and weekly stories and tips. | |
Why Do The Purpose Project Course?
Pablo Picasso said "the meaning of life is to find your gift. The purpose of life is to give it away." It seems that us humans are hard-wired to live a life of meaning but that many of us have never fully explored our gift. This course has been designed to help you unearth your gift and bring it right into your workplace, no matter where you work.

Purpose can be defined as 'doing something that is meaningful to you and that is of consequence to the world or to others.' A sense of purpose helps you deal with the ups and downs of work and life. Purpose goes beyond mission, plans and goals. A clear purpose helps you set a goal you will actually achieve. It keeps you inspired, motivated and committed. It's the thing that will get you out of bed every day itching to get to work.
This Course Will Help Your People
Understand how to bring their own purpose to work (BYO Purpose).
Explore their purpose working with the 'ikigai' Discover your Purpose model.
Clearly articulate and write their own powerful purpose statement.
Plan a simple project to help them bring it to life.
Pitch their project to you and your team to seek support.
Gain meaning, direction and happiness at work without the need to find another job.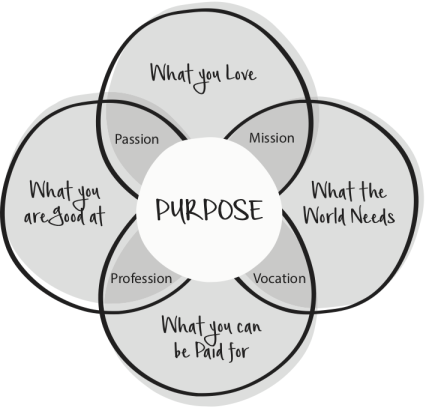 Discover Your Purpose with Ikigai
The Lessons
Do the course over 7 weeks in 7 lessons or access all the lessons on-demand and do the course at your own pace with your Purpose Activators.

| | |
| --- | --- |
| Course Welcome: | Get acquainted with this course. |
| Lesson 1: Start it. | Set yourself up for course success. |
| Lesson 2: Learn it. | Learn the foundations of purpose. |
| Lesson 3: Explore it. | Dig deep into your own purpose. |
| Lesson 4: Name it. | Write your own purpose statement. |
| Lesson 5: Plan it. | Plan a simple project to bring it to life. |
| Lesson 6: Pitch it. | Pitch your project to your manager. |
| Lesson 7: Do it. | Get started on your project. |
| Bonus Lesson: | Discover the 12 practices of purpose. |
Take Your Team Purpose Pulse-check
On average, how important is it to your team, to have purpose at work?


(Scale of 1-10 with 1 being 'not at all' and 10 being 'an imperative'.)
On average, how 'on purpose' do you feel your team is right now?
(Scale of 1-10 with 1 being 'not at all' and 10 being 'completely'.)
Subtract your score for question 2 from question 1. If you scored 5 or more, this course is for you. Keen to get started?
Your Teacher, Carolyn Tate
---
"Writing is the only thing that when I do it,
I don't feel I should be doing something else."
Gloria Steinem
---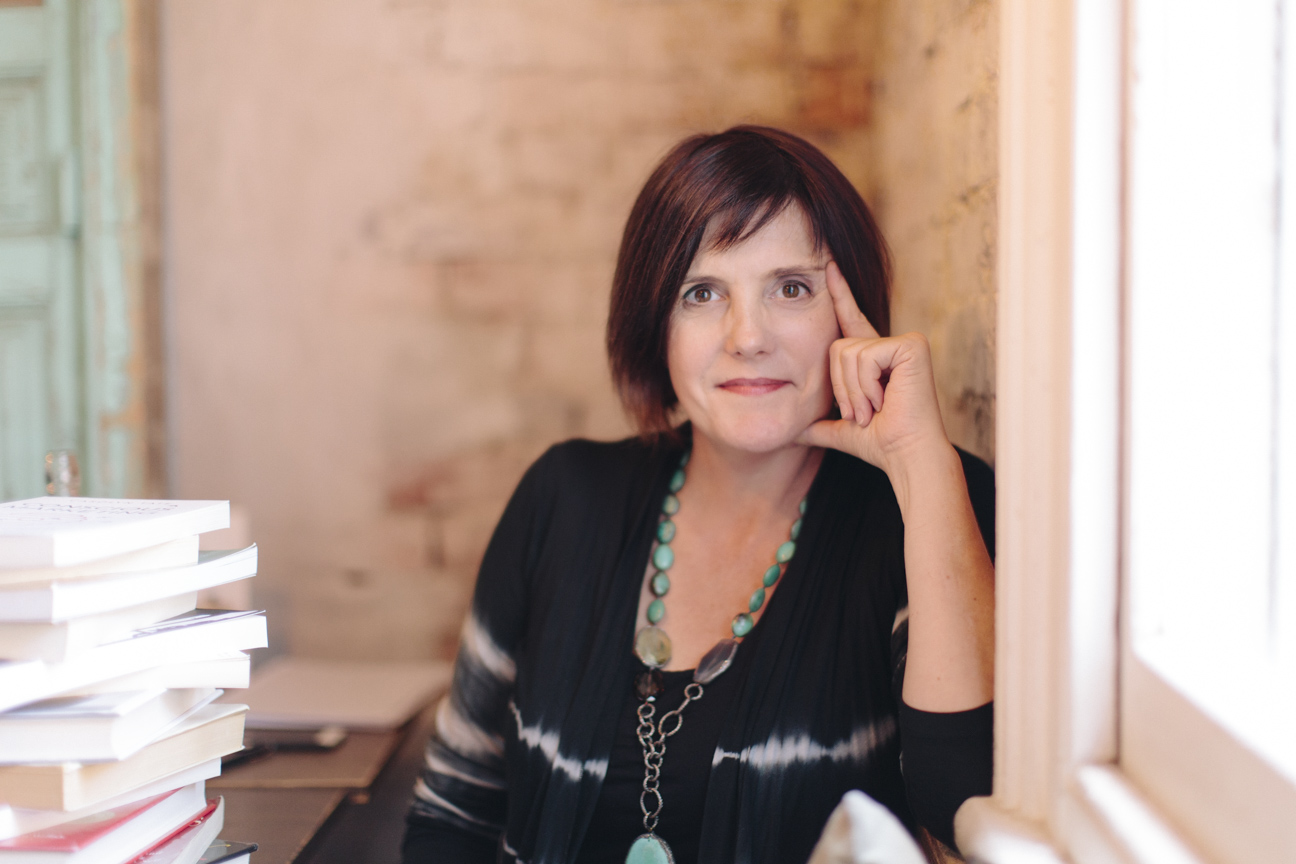 After 20 years in the banking world, 18 years in my own business including 10+ years as a writer, I've learnt that the grass is not greener on either side of the 'employee' or 'self-employed' fence. I've discovered that I could have been a banker AND a writer, that I didn't need to leave my job to pursue my purpose.
My own highest purpose is "to write books that truly matter – to me and my readers". I've written five books and am currently writing my next book, a novel. My other purpose (yes, we can have more than one purpose) is "to unearth a higher purpose in people and organisations."
That's why I wrote The Purpose Project and am bringing this online course to you now. I want to help you fast-track your purpose and teach you what's taken me more than 10 years to learn.
Today, I've sold over 6,000 copies of The Purpose Project and impacted over 75,000 people through my podcasts, speaking gigs, blogs and book tours as well as taught hundreds of people how to find their why.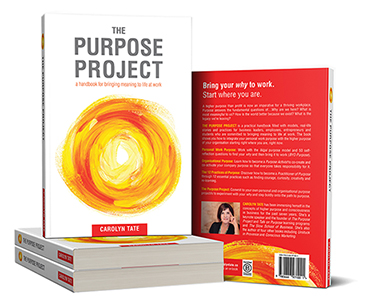 What Others Say
"Carolyn has helped me get clear on what really matters to me and how I can take immediate action through purpose projects. Her approach is supportive, thought provoking and authentic. I thoroughly enjoyed the time I spent with Carolyn and am more connected to my purpose and what legacy I want to create than ever before!" Bridie

"Carolyn teaches from the heart. Her clarity of purpose and passion for helping others find theirs is as inspiring as it is instructive, making her my go-to expert for living a life 'on purpose'. From her lived experiences and prolific writing, Carolyn has developed an incredible mastery of her content that readily engages her learners in any medium. I have no hesitation in recommending Carolyn's teaching to anyone who is looking for more purpose in their work." Matt
"Carolyn is a truly selfless professional who avails her amazing skill and time to supporting others in pursuing their passion and purpose in life. Her teachings have provided me with the simple tools to be able to find my purpose and bring it to my work so that I live my purpose daily." Penny
"Carolyn is a master at finding and engaging the hearts of her audience. She is an authentic and powerful agent for the change we need in our world." Cath
For Individuals
Keen to take a DIY approach and get started?
Click here to learn:
3 key lessons of BYO Purpose.
What's in the course and outcomes.
The 7 steps and 7 lessons you'll receive.
Your Purpose Pulse-check score.
How to get started on purpose.